Theme is "We Are One Family under God" 
Migrants, refugees, victims of human trafficking "our spiritual brothers and sisters"
Resources and educational materials available online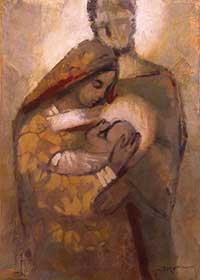 December 31, 2014
WASHINGTON—National Migration Week 2015 will take place January 4–10 with the theme, "We are One Family under God." The celebration of National Migration Week provides an opportunity to raise awareness about the hardships faced by migrants, including children, refugees and victims of human trafficking.
"Migrants –including children, immigrants, refugees, and victims of human trafficking– are our spiritual brothers and sisters," said Bishop Eusebio Elizondo, auxiliary bishop of Seattle and chairman of the U.S. Conference of Catholic Bishops' (USCCB) Committee on Migration. "They often find themselves isolated, alone and separated from family, their ability to live out their lives in fullness severely restricted. Often family members are separated from one another because of deportation, detention, or related immigration laws that inhibit family reunification."
As part of the 2015 National Migration Week celebration, the USCCB established a small grant program that will provide Catholic parishes, schools and other organizations funding to help them better integrate the Church's teaching on migration into new or existing programs, materials, events and other activities. Grant recipients will be announced during National Migration Week.
"We are all created equal in God's image," said Bishop Elizondo. "There is no such thing as an illegal human being. During National Migration Week we should not only pray for our brothers and sisters who are marginalized but also advocate that protections are provided to them, for they need them most."
The observance of National Migration Week began over 25 years ago by the U.S. bishops to give Catholics an opportunity to take stock of the wide diversity of peoples in the Church and the ministries serving them. The week serves as both a time for prayer and action to try and ease the struggles of immigrants, migrants and vulnerable populations coming to America and a time for reflection on the Church's call to "welcome the stranger." The 2015 National Migration Week marks 50 years of service by USCCB Migration and Refugee Services.
Dioceses across the country have planned events for National Migration Week. Masses will be celebrated in Los Angeles; Palm Beach, Florida; San Bernardino, California; Chicago and Miami among others. Forums, vigils, and other special events will take place in Minneapolis; Knoxville, Tennessee; Chicago and Washington.
Educational materials and other resources for National Migration Week are available for download at www.usccb.org/nationalmigrationweek. Posters, prayer cards, and booklets can be ordered through the USCCB publishing service at www.usccbpublishing.org or by calling 800-235-8722.
North Dakota must address human trafficking. The North Dakota Catholic Conference supported funding for victim services when the state passed its first set of anti-human trafficking laws, but they were not enacted. Perhaps now is the time.
http://bismarcktribune.com/news/state-and-regional/funding-sometimes-lags-for-sex-trafficking-victims/article_24456f7e-8fab-11e4-8527-9bd23db62324.html
WASHINGTON—Bishop Oscar Cantú of Las Cruces, New Mexico, chairman of the Committee on International Justice and Peace of the U.S. Conference of Catholic Bishops (USCCB) welcomed the announcement by President Barack Obama of the release of Alan Gross and other prisoners, and of the administration's action to normalize relations with Cuba, December 17.
Full text of the statement follows:
STATEMENT ON RELEASE OF ALAN GROSS AND
THE CHANGE IN U.S. POLICY TOWARD CUBA
Most Reverend Oscar Cantú
Chairman, Committee on International Justice and Peace
United States Conference of Catholic Bishops
December 17, 2014
We share the joy of the family of Alan Gross and of all Americans upon hearing the news of his release from over five years of custody in Cuba, as well as the humanitarian release of other prisoners. We are also encouraged by today's announcement by the Administration of important actions that will foster dialogue, reconciliation, trade, cooperation and contact between our respective nations and citizens.
Our Conference has long held that universal human rights will be strengthened through more engagement between the Cuban and American people. For decades, the USCCB has called for the restoration of diplomatic relations between our nations. We strongly support the review of Cuba's designation as a State Sponsor of Terrorism.
We believe it is long past due that the United States establish full diplomatic relations with Cuba, withdraw all restrictions on travel to Cuba, rescind terrorist designations aimed at Cuba, encourage trade that will benefit both nations, lift restrictions on business and financial transactions, and facilitate cooperation in the areas of environmental protection, drug interdiction, human trafficking and scientific exchanges. Engagement is the path to support change in Cuba and to empower the Cuban people in their quest for democracy, human rights and religious liberty.
WASHINGTON—Bishop Eusebio Elizondo, auxiliary bishop of Seattle, chairman of the U.S. Conference of Catholic Bishops' Committee on Migration, decried the opening of a 2,400-bed detention center in Dilley, Texas, constructed to house, among others, families fleeing persecution in Central America.
The detention center, operated by a private, for-profit group, was inaugurated December 15.
"It is inhumane to house young mothers with children in restrictive detention facilities, as if they are criminals," said Bishop Elizondo December 16. "Already traumatized from their journey, these families are very vulnerable and need care and support, not further emotional and psychological harm." Studies have shown that detention has a harmful psychological impact on children.
Bishop Elizondo added that the Obama administration's pursuit of a deterrence policy– including detention and interdiction– against children and families fleeing violence undermines basic human rights.
"Many of these families are fleeing persecution and should be afforded the full benefit of domestic and international law," Bishop Elizondo said. "As we saw in the case of Artesia, detention denies mothers and children with valid legal claims meaningful access to due process, including legal representation." A temporary detention facility in Artesia, New Mexico, housing families was recently closed down, in part, because of strong opposition to due process violations and conditions there, especially for children. The average age of children detained in Artesia was six and a half years old.
Bishop Elizondo added that humane alternatives to detention exist, particularly community-based alternatives based on a case management model.
"Past community-based programs have shown that vulnerable groups such as families can be placed in a community setting and still appear at their immigration hearings, provided they are given the proper support," Bishop Elizondo said. "The government should explore this humane alternative and not cause further harm to these families, particularly children."
WORLD DAY OF PEACE 2015
SLAVES NO MORE, BUT BROTHERS AND SISTERS
Check out this two-page handout for a summary of the message and prayer and action ideas!
Action keeps families together and protects children
Migrants are brothers and sisters to be welcomed, respected and loved
Congress and President must work together for permanent reforms
November 20, 2014
Bishop Eusebio Elizondo, M.Sp.S., auxiliary bishop of Seattle and chairman of the U.S. Conference of Catholic Bishops (USCCB) Committee on Migration, welcomed the news today that the Obama administration will defer deportations for many undocumented immigrants and their families.
"We have a long history of welcoming and aiding the poor, the outcast, the immigrant, and the disadvantaged. Each day, the Catholic Church in the United States, in her social service agencies, hospitals, schools, and parishes, witnesses the human consequences of the separation of families, when parents are deported from their children or spouses from each other. We've been on record asking the Administration to do everything within its legitimate authority to bring relief and justice to our immigrant brothers and sisters. As pastors, we welcome any efforts within these limits that protect individuals and protect and reunite families and vulnerable children," said Bishop Elizondo.
Archbishop Joseph E. Kurtz, archbishop of Louisville, Kentucky, and president of the USCCB said, "There is an urgent pastoral need for a more humane view of immigrants and a legal process that respects each person's dignity, protects human rights, and upholds the rule of law. As our Holy Father, Pope Francis, said so eloquently: 'Every human being is a child of God! He or she bears the image of Christ! We ourselves need to see, and then to enable others to see, that migrants and refugees do not only represent a problem to be solved, but are brothers and sisters to be welcomed, respected, and loved.'"
Bishop Elizondo added, "I strongly urge Congress and the President to work together to enact permanent reforms to the nation's immigration system for the best interests of the nation and the migrants who seek refuge here. We will continue to work with both parties to enact legislation that welcomes and protects immigrants and promotes a just and fair immigration policy."
Congress should incorporate the protections of the Abortion Non-Discrimination Act (ANDA) into must-pass funding legislation, said the chairmen of two committees of the U.S. Conference of Catholic Bishops (USCCB) in a November 17 letter to Congress. Cardinal Seán P. O'Malley of Boston and Archbishop William E. Lori of Baltimore cited the California Department of Managed Health Care's recent move to mandate elective abortions in all health plans under its jurisdiction, with no religious or moral exemption, as one urgent reason for Congress to improve federal laws protecting conscience rights on abortion.
"The crisis in California requires Congress to reaffirm a principle that has long enjoyed broad bipartisan support: Government should not force hospitals, doctors, nurses and other providers to stop offering or covering much-needed legitimate health care because they cannot in conscience participate in destroying a developing human life," wrote Cardinal O'Malley and Archbishop Lori. They chair the USCCB Committee on Pro-Life Activities and Ad Hoc Committee for Religious Liberty, respectively.
Cardinal O'Malley and Archbishop Lori noted that such rules proposed in California and other states violate the longstanding Weldon amendment, which forbids governmental bodies receiving federal funds from discriminating against those who object to taking part in abortion or abortion coverage. However, that law lacks an effective means of enforcement and has been subject to legal challenges. The bishops support ANDA as an assurance of greater legal protection. Its protections were included in the U.S. House of Representatives' draft version of the Labor/HHS appropriations bill for Fiscal Year 2013, but that act was ultimately not passed by Congress.
"We strongly urge you to incorporate ANDA into must-pass funding legislation at your earliest possible opportunity," the bishops concluded.
The U.S. bishops stand ready to work with Congress "to protect poor and vulnerable people, promote human life and dignity, and advance the common good," said the bishops who chair two committees of the U.S. Conference of Catholic Bishops in a November 17 letter to Congress. Archbishop Thomas G. Wenski of Miami and Bishop Oscar Cantú of Las Cruces, New Mexico, urged Congressional leaders to draw a "circle of protection" around programs serving the poor and vulnerable as they weigh spending and tax legislation.
"As pastors, we see every day the human consequences of budget choices. Our Catholic community defends the unborn, feeds the hungry, shelters the homeless, educates the young, and cares for the sick, both at home and abroad. These voices are too often missing from public policy debates, but they have the most compelling moral claim on our consciences and our common resources," wrote Archbishop Wenski and Bishop Cantú.
Archbishop Wenski and Bishop Cantú chair the USCCB committees on Domestic Justice and Human Development and International Justice and Peace, respectively.
They highlighted nutrition for women, infants and children; affordable housing; community health centers; and mental health services and workforce development as programs that should not be cut. They also expressed support for extending the Children's Health Insurance Program (CHIP) as well as the Earned Income Tax Credit and the Child Tax Credit.
Archbishop Wenski and Bishop Cantú also noted the importance of poverty-focused international assistance, humanitarian and disaster assistance, long-term development programs and international food and agriculture programs.
Statement on the Results on Measure 1:
We are, of course, disappointed with today's results.  We are not, however, disappointed in how Catholics across the state joined with people of other faiths and no faith at all to fight for the culture of life in North Dakota.
Sadly, the opposition to Measure 1 relied solely on scare tactics and outright lies to confuse and frighten voters.  The No campaign, funded and directed by Planned Parenthood, refused throughout the campaign to debate supporters of the measure or provide explanations for its claims.  The people of North Dakota deserved better.
Measure 1 would have clarified that the state constitution does not contain an expansive right to abortion.  Unfortunately, the people of North Dakota were denied an honest and robust debate on that issue.  The cause of life and the need to address this fundamental question remain.
Although Measure 1 lost, we are not disheartened.  On the issue, we won.  The opponents basically conceded that this is a pro-life state by completely avoiding the importance of common sense pro-life laws. The loss of Measure 1 is not a setback.  In the last five years North Dakota has passed a record number of pro-life bills, only one of which has been struck down by the courts.
In short, the pro-life movement in North Dakota has never been stronger or more unified. We have truly been blessed by this experience.